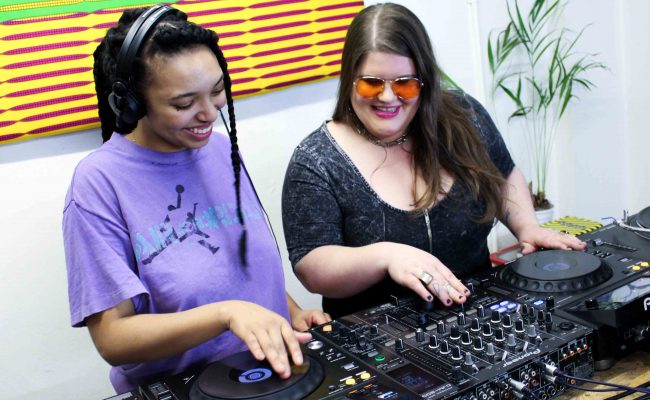 TASTER DJ SESSION
Have you ever wanted to DJ?
Enjoy learning exciting new skills?
Want to spend a fun afternoon with your friends?
Come down to our Dalston DJ studio and get a taste of what goes into that DJ life, as you learn to mix with some of the UK's top DJ talent.
In a small group, you'll learn how to select tunes, beat match and some behind the scenes pro DJ tips; from preparing a DJ set to handling track requests in the club!
You don't need any music or DJ equipment to join in the taster session – we have all the latest tunes and industry standard gear in the studio. You'll be shown how to mix on the latest Pioneer equipment and we'll talk you through different types of DJ set up you can have at home from vinyl to controllers.
At the end of your day in the studio, take away a starter pack of music, free music management software, 25% discount on any future DJ courses, and a recording of your own mimimix made in the session.
With her origins firmly rooted in UK Grime Music, East London born A.G has carved out a reputation as a talented DJ, radio personality & more recently, beatmaker. Noted as one of the 9 Grime DJs to watch by Complex and in the forefront of the Grime scene by The Fader, A.G has been featured on Beats1, BBC Asian Network, BBC 1xtra, Rinse FM, Radar Radio, & NTS where she currently presents The MnM Show fortnightly, a Grime showcase with a exciting acts guesting, including P Money, Jammz, Logan Sama, Trim, Novelist, Discarda & President T etc. When she's not headlining club nights; A.G can be found on festival line ups like Outlook, Wireless, Afropunk & Nyege Nyege Festival – East Africa's biggest music festival. 
I took 3 improver DJ lessons with Samantha and feel like I learnt so much in such a short space of time, from tips on organising my music collection, feeling much more confident EQing in the mix, all the way through to more strategic advice on career development. Samantha is extremely knowledgable, takes a genuine interest in her clients and is also a lot of fun. Thanks!
Marcus
Chapter 24 Records - PRO DJ CONSULT
Samantha is a skilled and patient tutor! I went to see her as I wanted to take my skills/techniques to the next level and move from controller to CDJ and over the course of 6 weeks I learnt a crazy amount. Not to mention all the advice on the business side of DJ-ing. Couldn't thank Sam enough! I would defo recommend!
Sheisjei
PXP Crew - CLUB DJ COURSE
Great Great Great!! Seriously, Samantha taught me how to DJ using CDJ's and USB… So professional and personal. She invested a lot of time in me, practicing helping my find my style. She really is a fabulous teacher, I feel so confident now! I formed a lovely bond with Samantha and its a nice feeling she wishes me all the best in my Dj career. Highly recommend!
Emma CB
Capital Xtra - CLUB DJ COURSE
If you're looking for a more in depth DJ Course, check out the Club DJ and Pro options on
this page!
COURSE DETAILS
Time: 2-7pm
Location: HUB16 Dalston
Any Question at
+44 [0]7554952914
Dalston, N16 7XJ
24 Stoke Newington Road
Send your mail at
hello@hub16.com